George W. Bush er sósíalisti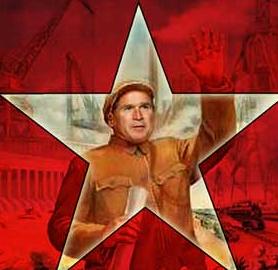 Fyrirsögnin kemur eflaust flatt upp á suma. Það hefur verið vinsælt hjá vinstri mönnum að gagnrýna nýlega kjörinn forseta Bandaríkjanna, hann George Walker Bush. En sannleikurinn er sá að Bush er á margan hátt skoðanabróðir þeirra sömu vinstri manna, og sumir hægri íhaldsmenn hafa gengið svo langt að kalla hann "frjálslyndan". Ég vil ganga skrefinu lengra og kalla hann George það sem hann raunverulega er; argasti sósíalisti.
En hvernig má það vera að æsti maður GOP, hægri-íhaldsflokks Bandaríkjanna geti verið kallaður sósíalisti? Við skulum athuga málið, því það er ekki annað að sjá en að Bush og félagar hafi tekið upp sósíalisma heilshugar. Það mætti ætla að vinstri menn fögnuðu þessu sem hugsjónalegum sigri, en það virðist vera að þessi nýútsprungna jafnaðarstefna GOP hafi farið nokkuð fyrir ofan garð og neðan hjá vinstri mönnum þar í landi.
Sönnunargagn númer eitt: beingreiðslur til bænda.
Árið 2002 sömdu Bush og stjórn hans frumvarp um auknar beingreiðslur alríkisstjórnarinnar til bandarískra bænda. Þetta frumvarp var samþykkt í lög og hafa þau þegar tekið gildi. Nýju lögin koma til með að auka greiðslur til bænda um 60% yfir 6 ára tímabil, alls um 246 milljarða Bandaríkjadala þegar allt er tekið saman.
Bandarískur landbúnaður telur þegar 40% tekna sinna í formi styrkja frá ríkinu. Um frumvarpið segir Bush: "This bill is generous and will provide a safety net for farmers, and it will do so without encouraging overproduction and depressing prices". Þetta er bersýnilega ekkert annað en upptaka auðs frá hinum gráðugu og sjálfselsku skattgreiðendum og endurráðstöfun þess auðs til hinnar stritandi bændastéttar.
Sönnunargagn númer tvö: ríkis-sjúkrasamlag handa öllum
Í júní á þessu ári samþykkti Bandaríkjaþing, þar sem GOP er í duglegum meirihluta, frumvarp sem veitir öllum Bandaríkjamönnum 65 ára og eldri, svo og öryrkjum og nýrnasjúkum, ódýra heilsugæslu og "ókeypis" lyf (það skal tekið fram að lyfin eru ókeypis eftir alls konar gjöld og vesen). Er þetta stærsta viðbót við ríkisstýrða heilsugæslu þar í landi síðan 1965.
Þegar Medicare apparatið var fyrst sett á koppinn var því ætlað að veita öldruðum þjónustu sem ákveðin var af ríkinu, á því verði sem ákveðið var af ríkinu, enda var þá Demókratinn og vinstri maðurinn Lyndon Johnson í hvíta húsinu (sami maðurinn og setti á herskyldu–lesist: þrælahald–til Víetnam). Nú hefur þessi reglugerð verið víkkuð út þannig að ríkið ræður nú nokkurn veginn hvaða lækna aldraðir hafa og hvaða lyf þeir kaupa. Ríkið ræður því nú nákvæmlega hvernig, hvenær, hvar og hvort aldraðir njóta heilsugæslu, að sönnum hætti sósíaldemókrata.
Sönnunargagn númer þrjú: Aðstoð til bágstaddra í Afríku
Í boði bandarískra skattgreiðenda sendi Bush 15 milljarða bandaríkjadala til aðstoðar eyðnisjúkum í Afríku. Ákaflega góðhjartað og yndislegt framtak á yfirborðinu. Vinstrimenn voru sumir himinlifandi, aðrir tortryggnir og enn aðrir bálreiðir. Ef við skoðum hvernig þeir peningar eiga að verða nýttir kemur í ljós að Bush er að henda peningum í vandamálið frekar en að leysa það á einhverjum raunhæfum grundvelli.
En hræsnin skín í gegn ef við athugum sönnunargagn númer eitt í samhengi við þessa gjafmildi. Niðurgreiðsla til bandarískra bænda gerir þeim kleift að selja bómull á 80% af kostnaðarverði á heimsmarkaði, og hveiti á 54%. Meginútflutningur þessara afríkuríkja sem um ræðir eru landbúnaðarafurðir, og með þessum niðurgreiðslum er bandaríkjastjórn að tryggja bandarískum afurðum markað með því að útiloka ódýrari og hagkvæmari framleiðslu frá bændum í Afríku. 15 milljarðar er því lítil skaðabót sem slær engan veginn á undirliggjandi fátæktarvandann. Og í anda sósíalismans bera skattgreiðendur byrðina af óendanlegri gjafmildi forsetans.
Sönnunargagn númer fjögur: Þjóðareign Íraka
Ekki mikið hefur komið fram frá Bandaríkjastjórn um nákvæmlega hver kemur til með að eiga olíubrunna Íraks, né hvernig tekjum af sölu hennar skal úthlutað, en Bush og félagar virðast hafa nokkuð fastar skoðanir að þjóðnýta eigi olíuna. "Iraq's oil belongs to the Iraqi people," segir Bush. Það er þá spurning hvort olían sem Exxon Mobil borar fyrir í Texas "tilheyri Bandarísku þjóðinni". Það er aldrei að vita hvort það verði næst á dagskrá.
En það er ekki nóg með að GOP æðstumenn séu ólmir í að dreifa olíuauðnum í Írak, heldur hefur Bush svo mikið sem lofað Írökum nýjum og endurbættum skólum, bættum samgöngum, ódýrri eða ókeypis grunnskólamenntun og heislugæslu handa öllum. Ótrúlegt, því sumt af þessu er ekki einu sinni gefið bandarískum skattgreiðendum, sem auðvitað borga brúsann. Það má vera að Bush vonist í hjarta sínu til að breyta Írak í sósíaldemókratískt fyrirmyndarríki sem má síðan móta bandarískt samfélag eftir seinna meir.
Vinstrimenn, bjóðið velkominn splunkunýjan skoðanabróður ykkar, félaga Bush. Vinur litla mannsins og hetja hinna vinnandi stétta. Hann lengi lifi.
Byltingarkveðjur,
Apocalisp