Peter Steele Söngvari Type O Negative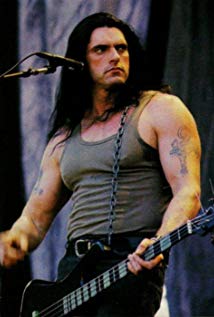 Petrus Thomas Ratajczyk betur þekktur sem Peter Steele fæddist 4 Janúar 1962 og dó í apríl 2010 - 48 árum seinna. Peter var söngvari og bassaleikari hljómsveitarinnar Type O  Negative.Hann var þekktur fyrir beittan og dökkan húmor.Textarnir hans voru einstaklega persónulegir og fjölluðu meðal annars um viðfangsefni eins og ást, missir og fíkn.Steele minnist á Black Sabbath og Bítlana sem innblástur.

Steele fæddist í Brooklyn/New York í Bandaríkjunum.Faðir hans var að Pólsku og Rússnensku bergi brotinn á meðan móðir hans var samkvæmt Wikipedia Skosk/Írskum og Norskum/Íslenskum ættum.Já Íslenskum ættum! Þannig að littlum hluta er Peter Steele Íslenskur.

Type O Negative var stofnuð árið 1989 ásamt æskuvinum hans.Bandið hét fyrst um sinn Repulsion en neyddist til að breyta því síðar útaf lagalegum ástæðum þar sem annað band hét því nafni.Þeir hétu einnig um tíma Subzero áður en þeir breyttu því í Type O Negative.
Peter Steele Var sérstaklega hávaxinn eða 203 cm og þekktur fyrir mjög djúpa rödd.Rödd sem passaði vel við dimma og á tímum þunglyndislega tóna Type O Negative.Þeir gáfu út nokkrar stórgóðar plötur eins og "Bloody Kisses, October Rust and
World Coming Down" og "Life Is Killing Me and Dead Again" sem ég mæli sterklega með.

Steele sat fyrir nakinn í tímaritinu Playgirl og fékk mikkla athygli fyrir það.Seinna meir fékk hann að vita frá hljómsveitar meðlimi að einungis 23% af lesendum Playgirl voru konur rest voru allt karlmenn.Eftir að vera margoft beðinn um að árita blaðið frá karlmönnum fór hann að sjá eftir því . Seinna meir varð honum þó alveg sama og sagðist alls ekki vera með hómóphóbíu en honum hafi fundist þetta samt pirrandi á sínum tíma.Seinna meir talar hann um að þessi myndataka hafi
bara verið kjánalegt "publicity stunt"

Steele talar um í viðtali frá árinu 2003 að hann sé haldinn geðhvarfasýki sem lýsir sem speiglast í tónlist hans.Ég hef alltaf verið mjög þunglynd persóna segir Steele-En það er bara ein hlið á mér.Mér líður betur við það að geta tjáð mig í gegnum tónlistina,Öll reiðin þunglyndið... Tónlistin er heilandi.

Í viðtali árið 2007 talaði hann um að nýlega væri hann farinn að hallast til kristinar trúar eftir að hafa verið trúleysingi mest sitt líf.Það eru engir trúleysingjar í skotgröfunum segir hann.Eftir að hafa farið í gegnum tilvistarkreppu á efri árum þar sem margt hefur breyst í lífinu þá ferðu sjálfkrafa að hugsa um dauðan og það sem fylgir því og þá vonastu eftir framhalds lífi eða Guði. Fyrir mig er það skelfileg tilhugsun að það sé ekkert eftir dauðan,Ég get einnig ekki séð það fyrir mér að fólk eins og Stalín og Hitler fari á sama stað og td. Móðir Teresa.
Steel deyr svo 14 Apríl 2010 úr hjarta stoppi og með honum deyr hljómsveitinn Type O Negative.Steel er minnst af mörgum sem hæfileikaríkum og góðum manni og tónlistinn hans mun lifa áfram af eilífu.